Episodes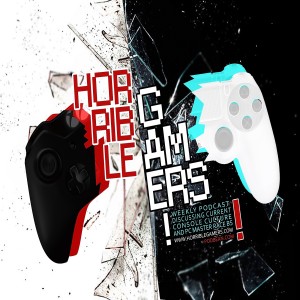 Saturday Sep 12, 2020
Saturday Sep 12, 2020
This week join Jesus, Mayo and Ricky and Bill  as we discuss, Tony Hawk Pro Skater 1&2, Marvel Avengers, Frostpunk, COD, Among Us, and so much more! 
Intro Music by FWLR & Twistex - Breakout (HGP Mix) -http://www.youtube.com/FWLRmusic
Outro Music by Broke For Free- Nightowl -https://youtu.be/9oKl99PEbHw 
Join us in our group on Facebook -https://www.facebook.com/groups/HorribleGamers/
Like our Page -https://www.facebook.com/HorribleGamers/
Follow us on Twitter -https://twitter.com/_Horriblegamers
Discord -https://discord.gg/8bsaxmD
Patreon -https://www.patreon.com/horriblegamers
If you like the show..Rate and Review It! Special Thanks to Our Patreon Supporters Jesus Loves You!
 Use Code:HORRIBLEGAMERS for a free month of Stitcher Premium When you sign up! 
Find Ricky Alfaras on FB https://www.facebook.com/ricky.alfaras