Episodes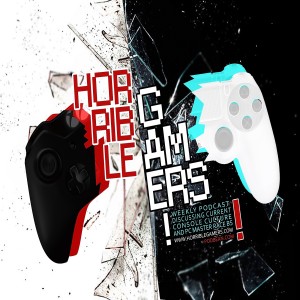 Tuesday Aug 23, 2022
Tuesday Aug 23, 2022
HGP#401 This week join Jesus, Gunny, and the Mayo as we discuss ready or Not ,Cult of the lamb, Two point campus and so much more! Does anybody read this? We appreciate you! 
Intro Music by Fantomenk - The Massacre(Rockband Version) 
Outro Music by Fantomenk- Dis Chipo
Join us in our group on Facebook -https://www.facebook.com/groups/HorribleGamers/
Like our Page -https://www.facebook.com/HorribleGamers/
Follow us on Twitter -https://twitter.com/_Horriblegamers
Discord -https://discord.gg/8bsaxmD
Patreon -https://www.patreon.com/horriblegamers
If you like the show..Rate and Review It! Special Thanks to Our Patreon Supporters Jesus Loves You!
Check out Manscaped and keep your balls happy! 
Get 20% OFF @manscaped + Free Shipping with promo code HGP20 at MANSCAPED.com! #ad #manscapedpod
Find Ricky Alfaras on FB https://www.facebook.com/ricky.alfaras